How to Avoid getting Doxxed on TikTok?
So it's happened again. Someone else has gotten into your socks. You've been TikTok-Doxed. How do you make it stop?
So it's happened again. Someone else has gotten into your socks. You've been  TikTok-Doxed. Perhaps you have made a public enemy somehow  that has stolen your identity. Or you're just an oblivious victim of online-trolling. Whatever it is, how do you make it stop?
How to Avoid getting Doxxed on TikTok?
What is Doxing exactly?
The term doxing was coined in the 90s hacking trends and comes from document collecting, later shortened to docs-dox.
The Doxer is a pigeon. Doxers collect your breadcrumbs or  tiny bits of information about you scattered across the internet - and then assemble them to reveal the identity  and post information about you like revealing your address or making false statements about you for all to see.
How do you prevent getting Doxed on Tik Tok?
TikTok has been online since 2016 and is owned by Giant Beijing-based tech company ByteDance. Recent years have seen its popularity soar, with more than 2 billion users.
The hype around TikTok serves as an opportunity for cybercriminals to broaden their reach. Hacked accounts can be weaponized in seconds by spammers, con artists, and malware distributors. So, it's in the interest of every user to ensure that their video blogging experience won't be exploited.
TikTok's built-in security and privacy features allow you to raise the bar for malware to be detected and removed. Here are some top tips to prevent TikTok hackers.

Avoid too many social media linkages to TikTok
Let's face it, linking your TikTok to other platforms such as  instagram or facebook may have its perks but it leaves you more vulnerable than ever. Think of TikTok social media links as doors.
The more doors you leave open the more trespassers can access your information. Avoid or minimize linking your TikTok account to your various social media like instagram or facebook accounts and leave it as an individual asset; if you can.
In TikTok, you can access this feature by navigating to the Manage app permissions page underneath the Login and security tab.
Go Private
On a similar token, private accounts are much safer than public accounts. Also, if you're using multiple platforms like instagram, facebook, youtube, etc. alter your information and passwords for each one so that it makes it more difficult for doxers.
Discrepancy is a doxers worst enemy!
The General still stands
Of course do not ever login using someone else's device. Also try to limit or avoid putting any personal information onto your social media; we don't want to hand the crumbs to the pigeons. You can also choose who follows you on TikTok for better safeguarding.

Device limits
On TikTok. underneath the security tab devices can be managed. You can track which devices have logged onto the account and remove any that seem alarming. Also, it provides information about login-times and accounts used to access the accounts.
If you use google to access your accounts you can also create parental limitations for approval. You also have the option to block or unblock devices or accounts accessing your social media.
Further verification steps
Underneath the security and login tab in TikTok you can also enter the 2-step verification feature which offers extra layers of security even if a person has access to your password. They will be asked either for an SMS or email verification.
You can also access the security checkup tab to see which devices and logins have been made. Devices can be removed or verified for extra security measures.
VPN software like VPN for TIKTOK
One of the main methods doxers use to obtain your personal information (or your breadcrumbs) is by op/isp doxing, by using your ip address.
Using social engineering techniques, the doxer then tricks your internet service provider (ISP) into disclosing more of your personal information.
Utilizing a VPN system such as apps like VPN for tiktok or My data manager VPN  can help prevent hackers using your IP address to obtain access to your account.
In addition, Browser-based web proxies are often free, but they only protect your browser traffic. You can encrypt your entire internet connection using a VPN like Avast SecureLine VPN.
By doing that, no one can see what you do online, which is especially important if you're using unsecured public Wi-Fi.

Data security
With that in mind you can also make use of   security  to avoid information phishing by utilizing security system like WOT mobile security or by using  Avast Breach Guard
Protect your information with Avast BreachGuard or the like.
These softwares can protect your information in  distinct ways:
Avast BreachGuard monitors the dark web and searches for data breaches 24x7. This software will notify you immediately if your information is compromised so you can take steps to protect it.
Avast BreachGuard identifies data brokers with profiles on you, and it sends your information removal requests on your behalf.
Avast BreachGuard scans your browser for weak or reused passwords to ensure you're not using ones that have already been stolen.
Don't click on sketchy links
Social-engineering tactics may be used by cybercriminals to trick you into tapping a hyperlink that leads to a malicious web page hosting a harmful payload.
They can be found in booby-trapped text messages, phishing emails sent by strangers, or malicious redirects caused by malware.
Don't be gullible and ignore them. As one of the abuse techniques illustrates, the messages can also impersonate TikTok.
Awareness of Recent tik tok doxx hack trends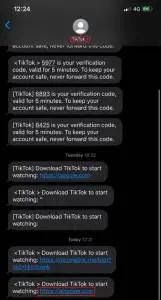 Spoofing SMS links is one of the malicious techniques piggybacking on TikTok's shortcomings. A text yourself a link to download tik tok feature is offered on the platforms official website yourself a link to download TikTok," which is available through the platform's official website.
This opens the gateway for hackers to utilize cross-site scripting . The adversary can easily tamper with browser cookies and create actions in their name. This can be prevented by clearing cookies and not utilizing third party websites.
Finally, It is important to be aware of TikTok doxxing trends so that you can take actions and precautions.
You may also be interested in reading more of my posts about avoiding getting Doxxed.